Answering
We've come a long way from the lady with the tight hair bun plugging cords into a switchboard. Now, we're lightning-fast, but it's the voice on the line that still makes all the difference. Personal, engaged, knowledgeable and helpful are the standards we maintain. Read more about our 24 hour answering service below.
Features
Live Receptionists
Bilingual Support
24/7 Service
Ideal For..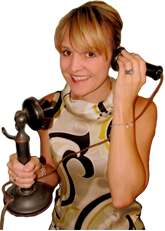 Health Care Professionals

Physicians, Dentists, Physical Therapists, Veterinarians, Psychotherapists, etc.

Professional Services

Lawyers, Real Estate Sales / Property Management, Financial, Insurance services, etc.

Small Businesses

Salons, Retail / Wholesale, Business-to-Business, etc.

Service Contractors

Plumbing, Electrical, Heating & Air Conditioning, Cleaning & Restoration services, etc.