Customer Service Awards & Recognition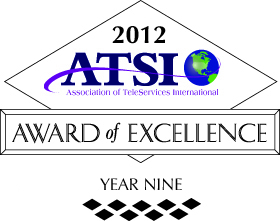 Contact One is consistently recognized as a quality leader within the teleservices industry. We work hard to earn the highest standing, evaluated by exacting peer review, and we get it done. It's one more good way to let our clients know how serious we are about making their customers happy.
ATSI Award of Excellence
Contact One is a multiple-year winner of the industry's most prestigious recognition for quality answering service. Based on test calls made throughout the year by impartial judges, our clients are assured that the standards for treatment of all callers are the highest possible. It is the caller's experience that is measured as it is created by the efficiency, professionalism and enthusiasm of the agent.
ATSI Call Center Award of Distinction
"Call centers" do order entry, reservations and appointments, and other activities more deeply integrated into clients' business systems. The standards for
customer interaction are equally high for this aspect of client service with the addition of a higher level of technological resource and expertise. Contact One is a multiple-year winner in this measurement as well.
Our Own Quality Assurance
We don't rely solely on outside sources to maintain our quality. Our internal quality control personnel monitor every agent every day to make sure each of our clients is properly represented to each of their customers. Our agents are rated on a scale that emphasizes not just competence but enthusiasm and engagement with the caller. Our in-house, ongoing training and skill development programs make it possible for each agent to achieve well beyond industry norms.